July 16, 2008
Comments Off
As you can see the Google search for my name is now returning my blog as the top entry.
I'm still not sure what it took to make this happen. Google is a curious creature.
seo-my-name-success
June 28, 2008
Comments Off
Here's a question: Is a well named sub directory better for SEO than a domain name?
Case in point: I searched my name on Google and came up with this: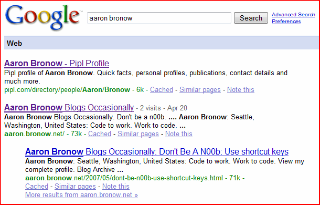 The pipl site which ends in /Aaron/Bronow is ranked higher than my blog which starts with aaron.bronow.
So I did some research:
The pipl site is "unranked" in Google toolbar's PageRank. My blog has a PageRank of 1.
The pipl site has about 54 pages indexed with Google. aaron.bronow.net has about 136 pages indexed.
The exact search string "aaron bronow" appears first in the title of both pages.
One difference I noticed is that the meta description and keywords of the pipl site contains my name whereas I had forgotten to apply any SEO meta tags to my blog homepage. So I corrected this error and I'll check again next week to see if anything has changed.
Stay tuned.
seo-my-name
May 13, 2007
Comments Off
Don't read headlines or news feeds on your favorite websites.
Do use RSS.
Save a lot of time by collecting the RSS feeds of your favorite sites then use a feed reader to keep up with the latest things. There's a cool site called Bloglines where you can keep track of all your favorite feeds. It will even log which ones you've read and which ones you want to save for later. You can also add RSS feeds to your iGoogle homepage. I have my iGoogle site set as my browser homepage so every time I open my browser I can get a news update.
dont-be-n00b-use-rss